We're really proud to announce that our new and comprehensive integration between our school HR software and payroll from Dataplan Education is now live!
Over 5,000 employees at UK Schools and Trusts benefitted during the first month of our unique HR-payroll combination that went live in November 2022.
Given that increased teacher salaries and squeezed budgets are putting huge pressure on internal processes, we feel as though the integration couldn't have come at a more appropriate time. With peace of mind that both employee data and payroll information is up-to-date, synchronised, and streamlined, we hope we're now helping schools to take a little bit of that pressure off!
Read on to learn more about how the partnership works, and the benefits an integrated HR-payroll process offers to your organisation.
Who are Dataplan Education?
Dataplan Education are specialists at providing payroll, pensions, and a bureau service to the education sector. Like us, Dataplan Education are part of IRIS Education, the software family that provides targeted software for education, strengthening mission-critical services in schools and MATs.
Payroll and pensions in schools are complex, with any changes to legislation and compliance needed to be reflected speedily and accurately. Over 650 schools trust Dataplan Education's specialists to correctly pay over 45,000 school employees.
How does the integration between Every HR and Dataplan Education work?
Employee information inputted to our HR software is automatically transferred into Dataplan Education's payroll through an Application Programming Interface (API) link – this reduces the risk of errors from double-keying data. Users can review, amend, and approve payroll in Every HR, with the same information feeding into Dataplan Education for processing.
Dataplan Education then checks procedures and resolves any queries that are raised. Once payroll is complete, payslips are produced and loaded into Every HR. Via our Self-Service Employee Portal, employees can access both their payslips and historical pay information, helping to reduce queries.
Any changes a member of staff makes to their personal information in the Employee Portal is flagged for approval in payroll, ensuring data is accurate and consistent between the two systems.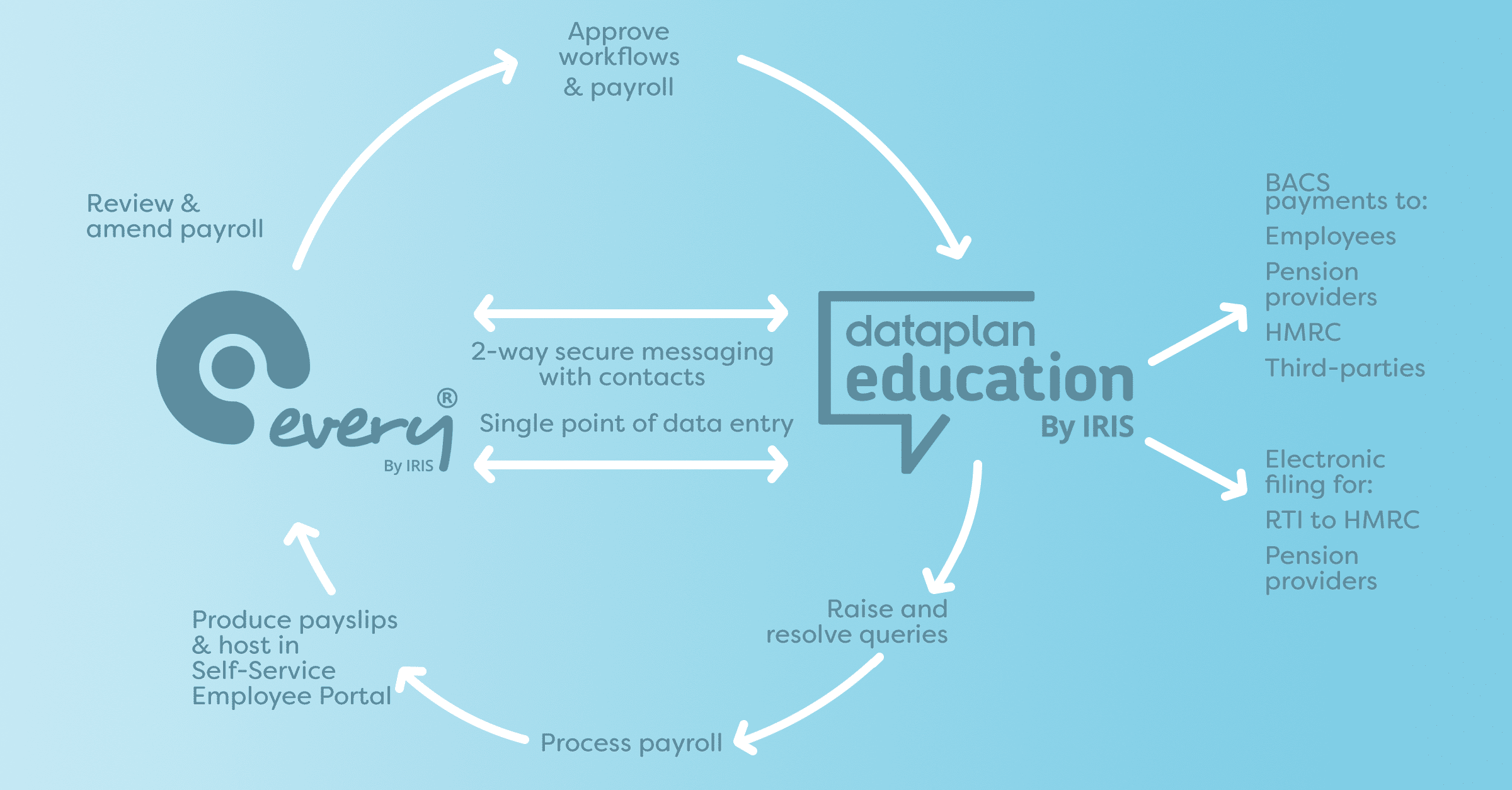 Supporting our idea of end-to-end HR software
With Every HR, our aim has always been to develop the most holistic human resources management solution for the UK's schools and trusts. And that's something that our Director, Adam Watson, feels is really coming to fruition now that the partnership is off the ground and evidencing success!
At the forefront of supporting customers on the journey to more holistic HR has been Adele Blackham, Dataplan Education's Client Services Director. Here's what she has to say about the integration!
Wondering how your school or trust could benefit from integrated HR and payroll? Contact our team of specialists to learn what's involved!