Our founding director and co-owner, Adam Watson, was recently interviewed by The Yorkshire Times about his role at Every®, what he thinks makes our company special, and all-things Yorkshire!
If you missed the original article, read more below…
What does a typical working day for you involve?
As a co-founder of Every, I've been involved in every area of the business over the years – from accounts and finance to staff training, sales and marketing – which is really how I carved my role as it stands today.
My main priorities on a day-to-day basis are developing and driving the wider business strategy forward and implementing processes that streamline operations. This can include everything from liaising with our customer base about their projects, to supporting our implementation and sales teams and liaising with our developers if they have any technical queries. Both myself and Ian, the CEO, continue to be very involved in all areas of the firm, and this is really important to us.
What makes your company special?
Without a doubt, it's the passionate and committed people at the heart of Every.
Each person within the team is driven by delivering the best service to our customers, and is knowledgeable not only about our software, but the education sector on the whole – including how it operates and what the biggest HR and site-management pain-points are for schools and colleges across the country.
The story behind how Every came to be is also unique. Ian and I have known one another for almost 20 years, and we worked together at a previous company before leaving to set up our own business. We both have strong technical and customer backgrounds – and I've been working in the education sector since 1995 – and together we identified a gap in the market for a product which, at the start, helped organisations to effectively manage compliance at their sites.
Do you have any business rules that you swear by?
Yes, firstly I believe you have to be truly passionate about what you're doing, as it's only then that you feel fulfilled in your role – and if you have authentic drive, this will come out positively in everything you do.
Another rule is to always put the customer first and view things from their perspective. This may sound obvious, however for every product you develop and new feature release you plan, you need to think 'why are we doing this?' and 'this will benefit our clients because…'. In this sense, it's always important to reflect and challenge yourself, as this will help keep your business focused and ensure the hard work that goes in is for maximum benefit to everyone.
Lastly, I'm a real people-person, and I believe that creating a strong and collaborative culture is at the heart of every successful organisation. That's why it's important to look after your workforce – listening to their feedback and offering internal development opportunities.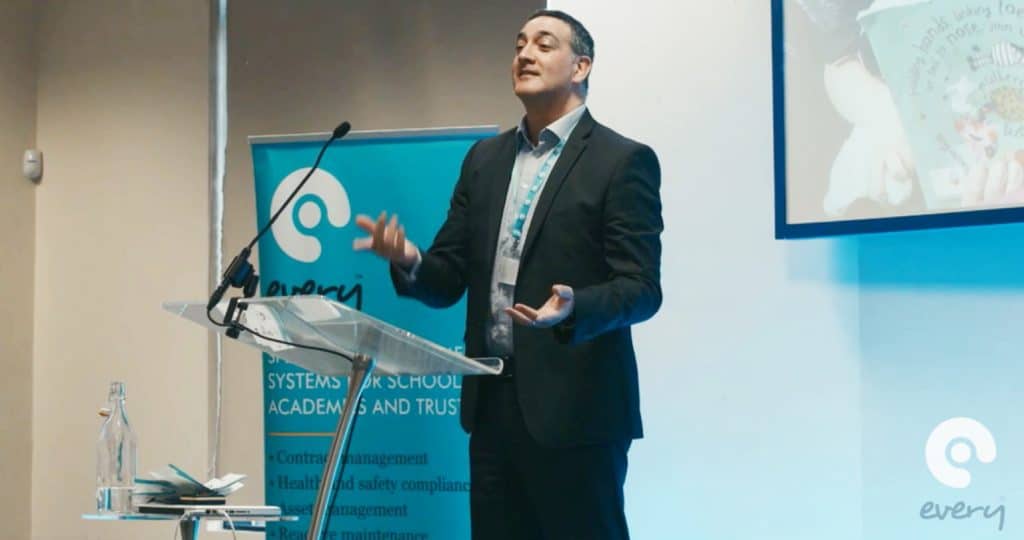 Do you dress up or down for work?
I do enjoy wearing a suit for external meetings, however day-to-day, our workwear is relaxed and we provide Every-branded tops and hoodies for staff.
What piece of advice would you give your 18-year-old self?
Never think about what you could or what you'd wish you could do, just do it.
I was 39 when I set up Every, and I thought if not now, then when? In truth, I'd always wanted to own and run a business since I was a teenager, so I'm glad I finally took the plunge.
What's your favourite Yorkshire venue for an event or team away day?
The go-karting facility in central Leeds or one of the escape room venues are always a choice favoured by the team – they're great because they get everyone involved and it appeals to their strong problem-solving natures, and that's core to what makes them an 'Every employee'.
How do you prefer to travel for business?
It depends on where I'm heading, if it's London, it has to be train, but if it's anywhere else, I prefer to travel by car. I love my driving time – it's like a mindfulness exercise, because you're solely concentrating on the road and not thinking about anything else or taking any calls, plus I get to choose the music!
What's your favourite place in Yorkshire to relax?
Originally from South Wales, I'm proud to be an 'adopted Yorkshireman', and I love anywhere where there is beautiful scenery. It's too hard to pick just one place, but I do love heading out for a spot of mountain biking in Dalby Forest.
Where is your favourite place to eat in Yorkshire, and what dish do you recommend?
While this isn't an eatery specific to Yorkshire, my favourite place to eat out is Wagamama – and if it's in Yorkshire, all the better! Everything from there is always fresh and tasty, so it's easily a firm favourite with me and my family.
What do you miss most about Yorkshire when you're away?
It's not called God's Own Country for nothing, so it's safe to say that I'd really miss the scenery. I'm also a qualified private pilot, so nothing beats flying over the rolling hills of North Yorkshire when I get the chance!